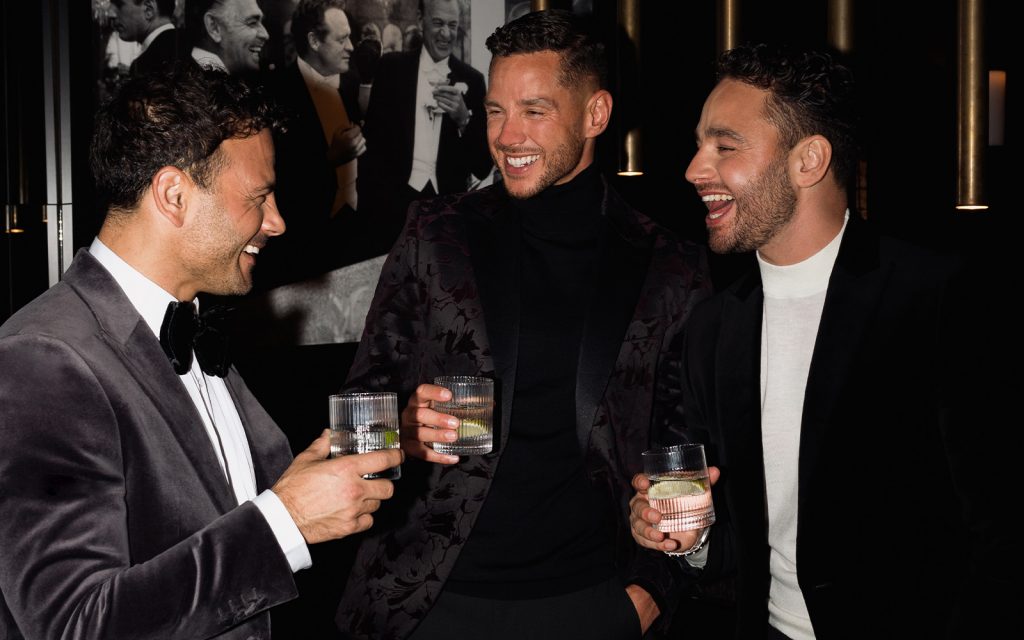 EMBRACE BLACK-TIE SEASON WITH THE THOMAS BROTHERS
Words: C. Saramowicz
Black-tie dress codes can be daunting, especially if you're not used to donning a tux on the regular. There are so many elements to consider – what dress shirt to wear, what lapel to choose, what is a cummerbund anyway? Whatever you're invited to, here's how to get the black-tie dress code right with some outfit inspiration from the Thomas brothers.
Tradition says that for a black tie event, you wear a black tuxedo – that means a black blazer with satin lapels and black trousers dress trousers – and a crisp white dress shirt. Add a black silk bow tie, black waistcoat or cummerbund and some black patent leather dress shoes and you're good to go.
However, we're now seeing more and more men getting creative with their black tie, showing off their own personal style rather than sticking to the more traditional feel. And it isn't just extras like cufflinks and pocket squares that are the differing pieces.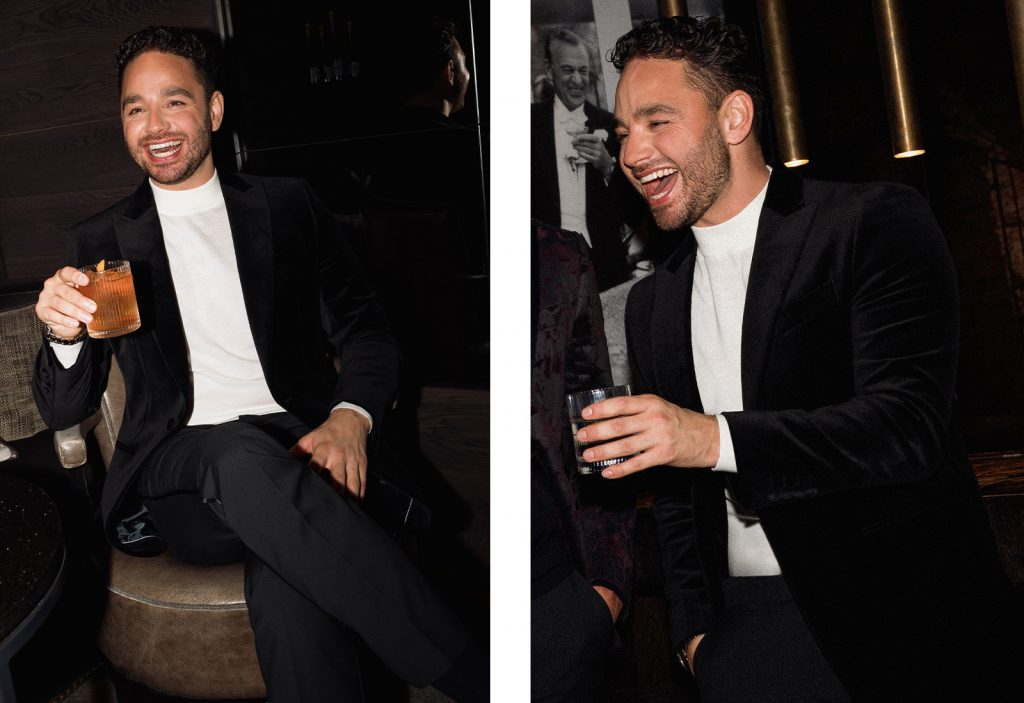 Work do
Work parties are a great time to showcase your personality and go all out. If you're hesitant about diving into the black-tie aesthetic, a great way to ease yourself in is by adding a relaxed piece to the mix.
Here, Adam pairs a merino mock neck with a black velvet jacket. The jumper functions as a casual version of a dress shirt, which softens the look while still looking put together. Complete with black dress trousers and a pair of high-gloss shoes for a polished finish.

Get the look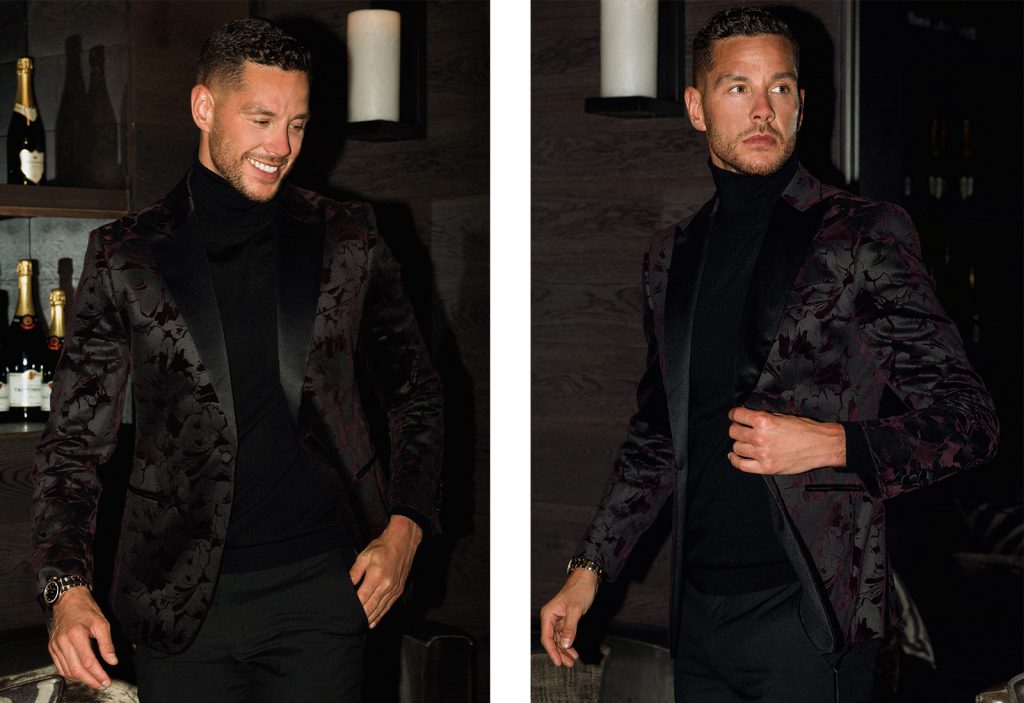 Black-tie wedding
If the wedding invite calls for black tie, it's time to up the ante. You don't always have to go full tux, though – a statement jacket can do wonders styled with paired-back separates.
For a winter wedding, take Scott's example and combine a smooth merino wool rollneck with slim fit dress trousers. They're tailored for a refined profile that's the perfect base for a showstopper piece, like our burgundy floral velvet jacket. We've crafted it from velvety cotton with extra interest in the form of a textured floral motif.
If the wedding's going to be a more formal affair, swap the rollneck out for a marcella dress shirt and finish with an oversized bow tie.
Get the look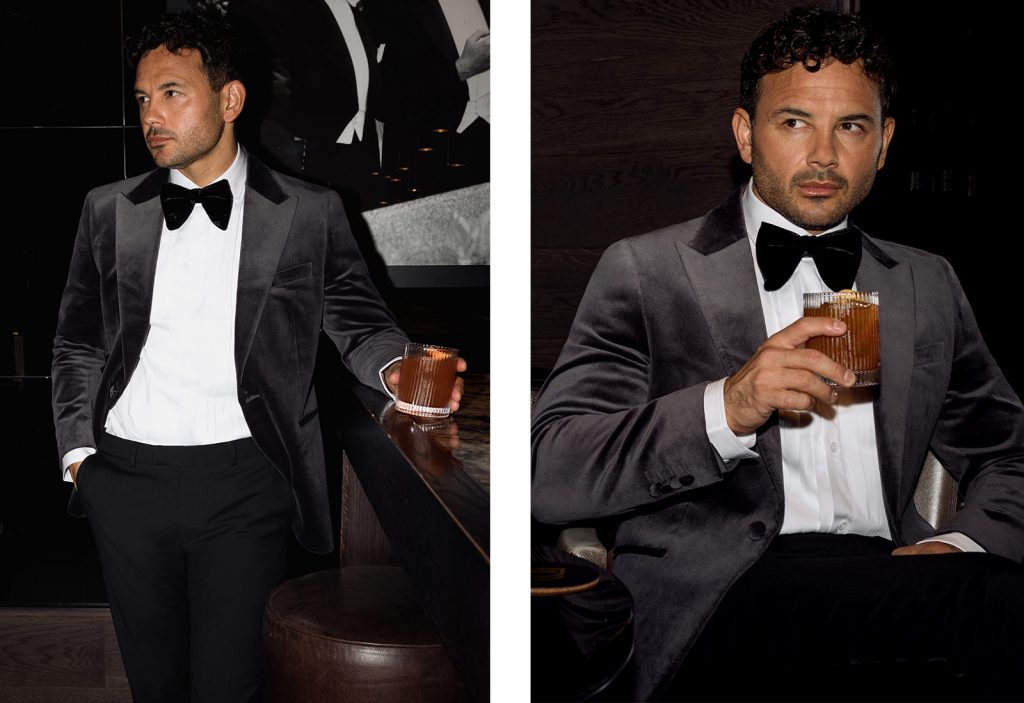 Awards ceremony
If you're heading to a black-tie dinner or an awards party, you need to look the part. It's one of the best opportunities you'll have to wear a full tux with all the trimmings.
Like Ryan, start off with a pristine dress shirt complete with a pleated bib. Then, add a pair of tailored dress trousers to cut a sharp lower half.
As for the jacket, the world is your oyster – catch the light in a jewel-toned option like green or burgundy, or go for a black-on-black look that feels intentionally put-together but requires little effort.
When it comes to accessories, no black-tie getup is complete without a bow-tie – our pick is one slightly larger and more statement-making than the traditional alternative, crafted from a premium velvet that perfectly matches the blazer. Add cufflinks for a shot of glimmer at the wrist, then finish with a polished patent monk shoe and you'll be shining bright all night.
Get the look