Moss Shrewsbury
Princess House, 22 The Square
Shrewsbury
SY1 1JZ
Moss Shrewsbury
Princess House, 22 The Square
Shrewsbury
SY1 1JZ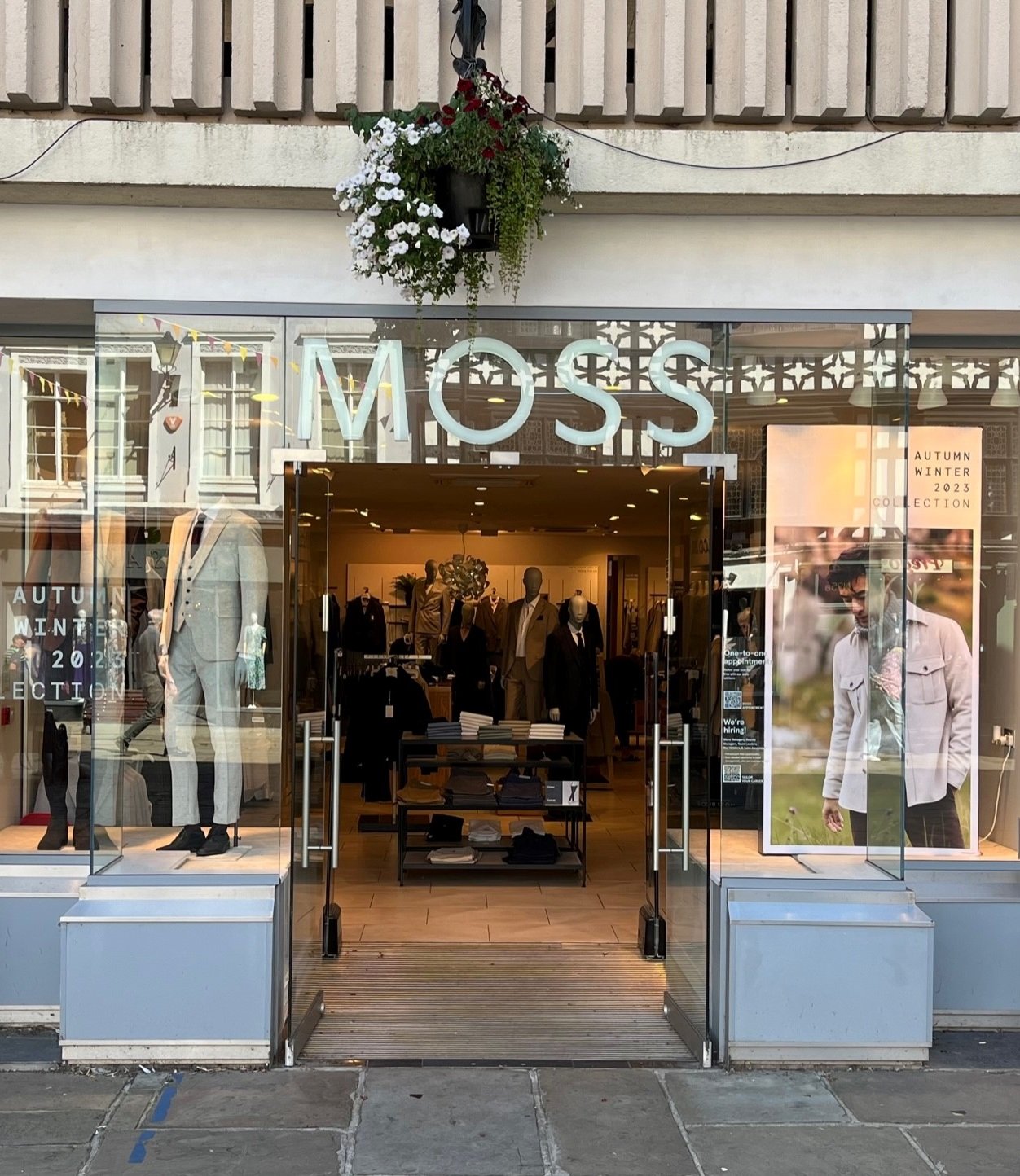 Find us
Princess House, 22 The Square Town Centre
Shrewsbury,
SY1 1JZ
Get Directions
Opening times
Monday 9am to 5:30pm
Tuesday 9am to 5:30pm
Wednesday 9am to 5:30pm
Thursday 9am to 5:30pm
Friday 9am to 5:30pm
Saturday 9am to 5:30pm
Sunday 11am to 4pm


Telephone number
01743291313
Browse now
MEET OUR STORE MANAGER
Please introduce yourself
Hi I'm Kelly, and I'm originally from Telford.
How long have you been at Moss?
I've been working at Moss since September 2017, and will have been the manager of Shrewsbury and Telford since July 2021.
Why do you love working at Moss?
I love working for Moss because it's an inclusive, fun and upbeat place to work. I think all staff are able to be themselves and shine in the positions they hold. I am a huge lover of menswear and I think Moss has moved so well with the times. It's also very nice to be able to get dressed up every day to come to work. Both my teams are great, and I enjoy working with everyone.
What makes the Shrewsbury store special?
Shrewsbury is a special store because it was originally in its very own little corner listed building. It was well loved by customers, but we recently had a facelift, moving to our new and upgraded unit, which fits so much better with the brand. Shrewsbury's store is very special to me because, after taking over as manager, myself and our area manager Helen made it possible to get the new unit, which we'd been trying to make happen for a quite a few years, so I'm super proud.
What's your favourite part of the store?
My favourite part of the store is actually the windows. They're fab, really eye catching and such an upgrade from our previous displays. We even have a lightbox now which is very trendy.
Have you had any special interactions with customers lately?
I couldn't name all of the pleasant interactions with customers as we've had loads. But, the one I remember massively is we had a visit from Ollie Ollerton, an SAS staff member who was on the show SAS: Who Dares Wins. He was great and even let me have a picture!
What's your favourite thing to wear right now?
My favourite piece in the collection currently is the sage puppytooth Performance suit. It's a colour we've always needed, and we've had so much customer interest in it since it landed, even doing a full three-piece Custom Made in the fabric after having it in for only 2 days. It's really lightweight, and can be dressed up or down.
Is there another place near the Shrewsbury store you frequent?
Since working in Shrewsbury, I've became very comfortable in the town. My favourite restaurant is a local business called Brambles for a light lunch, and they do made-to-order sandwiches, jacket potatoes, and toasties. Shrewsbury is a lovely town and has some great food and drink places, even a prison you can tour. It's great for locals and tourists.
Nearby stores
Moss Telford
Monday 9am to 6pm
Tuesday 9am to 6pm
Wednesday 9am to 6pm
Thursday 9am to 6pm
Friday 9am to 6pm
Saturday 9am to 6pm
Sunday 10:30am to 4:30pm
Moss Merryhill
Monday 9:30am to 8:30pm
Tuesday 9:30am to 8:30pm
Wednesday 9:30am to 8:30pm
Thursday 9:30am to 8:30pm
Friday 9:30am to 8:30pm
Saturday 9am to 7pm
Sunday 11am to 5pm
Unit 82B Merryhill Shopping Centre
West Midlands ,
West Midlands,
DY5 1SS
Get Directions
Moss Cannock
Monday 10am to 8pm
Tuesday 10am to 8pm
Wednesday 10am to 8pm
Thursday 10am to 8pm
Friday 10am to 8pm
Saturday 9am to 9pm
Sunday 10am to 6pm
Unit 77-78 West Midlands Designer Outlet Eastern Way
Cannock ,
West Midlands,
WS11 7JZ
Get Directions