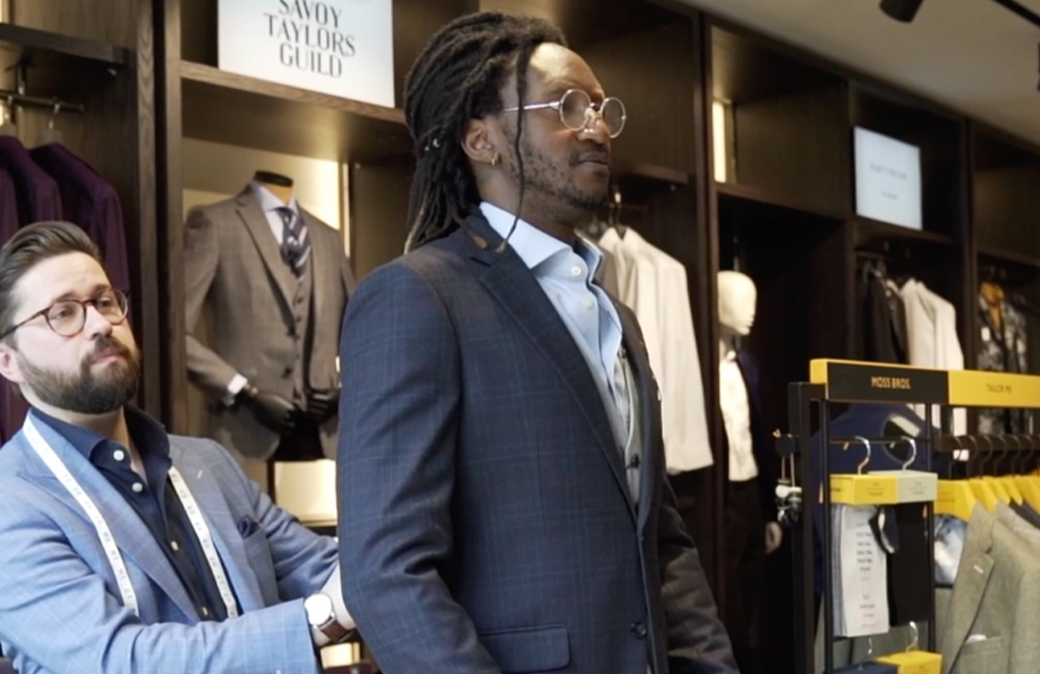 HOW TO BUY A SUIT
OUR MEN'S SUIT EXPERTS' GUIDE TO SHOPPING WITH CONFIDENCE
So you're looking to buy a new suit. But where do you start? For something worn by so many men all over the world, it's actually very common to be a bit unsure of what it is you actually want – particularly if it's your first time.
Thankfully, our men's suit experts spend their days helping men shop successfully, so who better to tell you how it's done?
To kick things off, Qasim Ali, who works in our Bradford store, says, "For a seamless shopping experience, you've got four factors to cover off: fit, colour, occasion and price. Whether you're new to suit buying or you've done this before, any questions you might have about which suit to buy will fall under these categories, and each is absolutely linked to the rest. Get them all right, and you're on to a winner."
So let's break them down, shall we?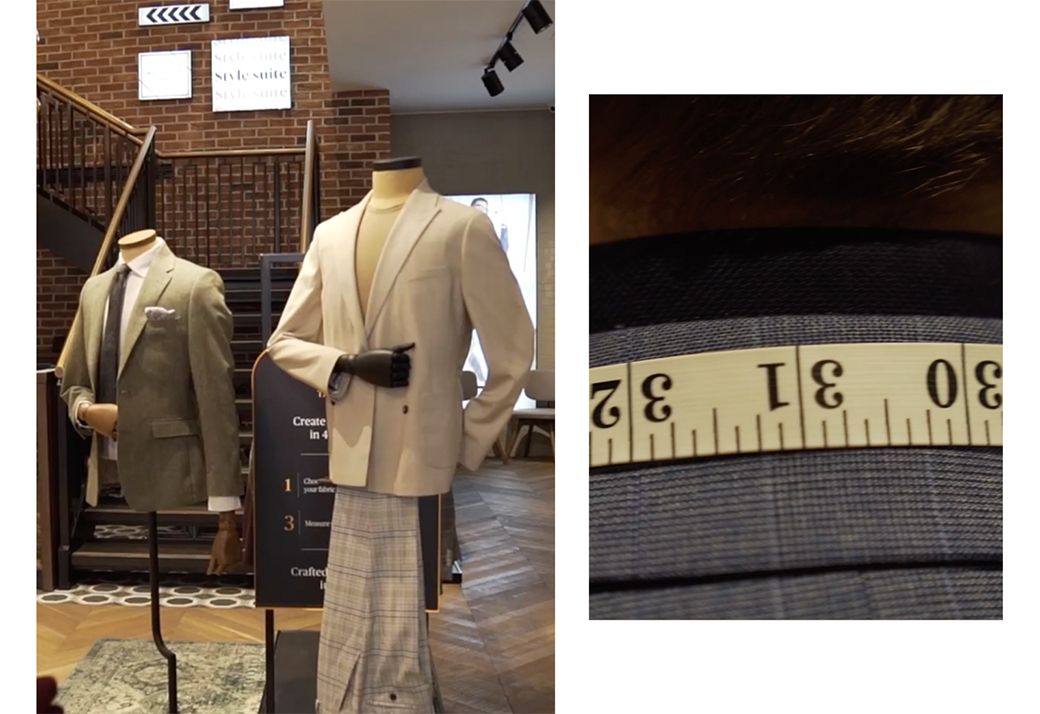 FIT IS KING
Getting the right fit is your number one priority. Consider it your framework that everything else hangs on. Our men's suit experts are on hand to take your measurements, and we also offer alterations through all of our stores. But, it's not as simple as just getting the right size – it's also important to be realistic about which fit will work best for your frame.
As Matthew Haddock, assistant manager in our Rushden Lakes store, gives some tips on how to buy a men's suit. "A particularly broad-shouldered or bigger-figured gent will want a looser fit, so a regular fit will suit him best, while a gent with broad shoulders and a narrow waist will look great in our tailored fit. If you're slim-framed with slim limbs, then you'll be able to pull off a skinny fit."

YOUR SUIT SHOULD SHOW OFF YOUR FRAME IN ITS BEST LIGHT

Your suit shouldn't feel restrictive – it should show off your frame in its best light. By matching your suit fit to your frame, you'll walk out with a suit that works for you, rather than something that makes you feel uncomfortable. Somsoll Abdin, assistant manager at Birmingham Fort, laid out the details that'll make your suit look sharp:
"Your suit should sit flat on the chest and shoulders. Not too wide and not too tight. Sleeves should allow 1-2cm of your cuff to show. For a tailored look, your jacket length should end by the middle of your thumb when your arms are by your side, while a skinny or more trend-led jacket will be cut a little shorter. Trousers should sit on top of your shoe with no crease or one crease maximum at the hem – and if you're fashion-conscious, feel free to show off your socks!"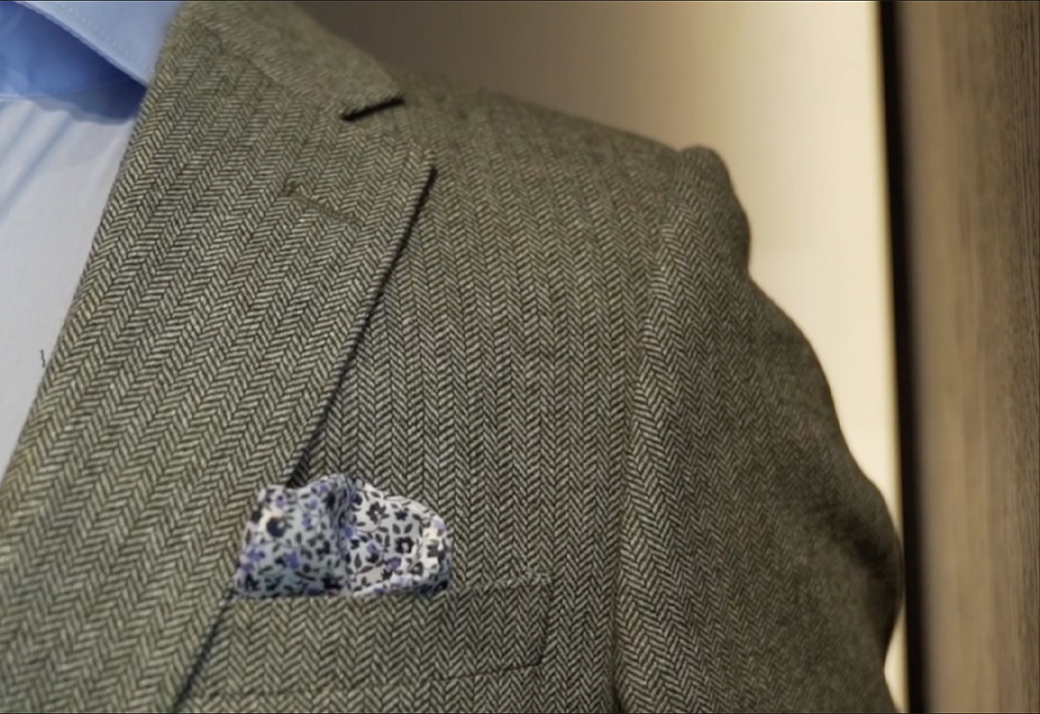 STYLE & COLOUR
This is where seasonal trends and personal taste come into play, but it can be daunting if you're new to the game or not sure what you're looking for.
If you need some guidance, Mark Foster, of our Ashford store, says looking at what our men's suit experts are wearing is a great place to start. "If you fancy what someone is wearing… speak to them! Who better to give you advice than someone who wears a suit day in and day out? Our staff are given the freedom to showcase their style, rather than hide behind a pre-issued uniform, so there's inspiration right in front of you in any Moss store."

WHO BETTER TO GIVE YOU ADVICE THAN SOMEONE WHO WEARS A SUIT DAY IN AND DAY OUT?

Our suit experts are also a great source to find out what other guys are wearing, too. Ask them what's selling in-store at the moment to get a good gauge on what's popular. According to Rushden Lakes' Matthew, "Colour-wise, blue suiting is our most asked-for and right now we're seeing a lot of guys go for pink accessories."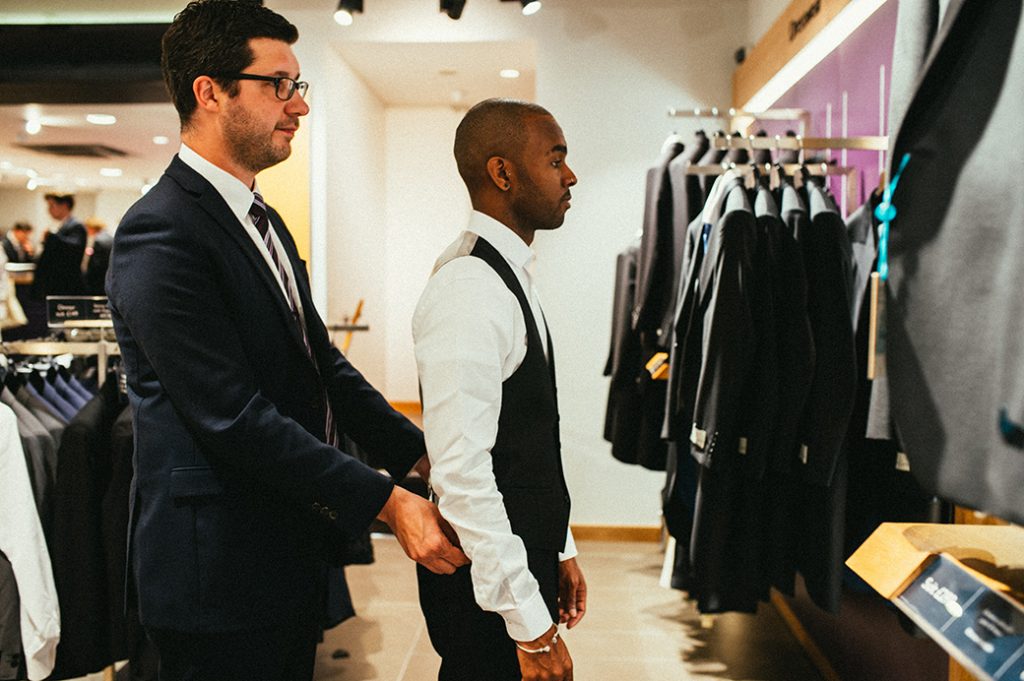 Somsoll from Birmingham Fort says keeping an eye on men's suit style trends helps him and his customers. "Instagram, blogs and magazines are great sources of inspiration and I love when customers come in with ideas or things they've seen online that we can help them get the look of."
The more you share with your suit expert, the more they can help you. Neil Young, who supervises our Ashford store, says sharing what you like or what inspires you can be the difference between simply a stylish suit and one that truly makes you feel great.
"If you reach a bit deeper and tell us about musicians and actors you admire, or your favourite movie or even who was the hero you had on your wall as a teenager, then we can use that information to help you buy a suit that'll make you feel amazing at a special occasion, or give you a confidence-boost for work."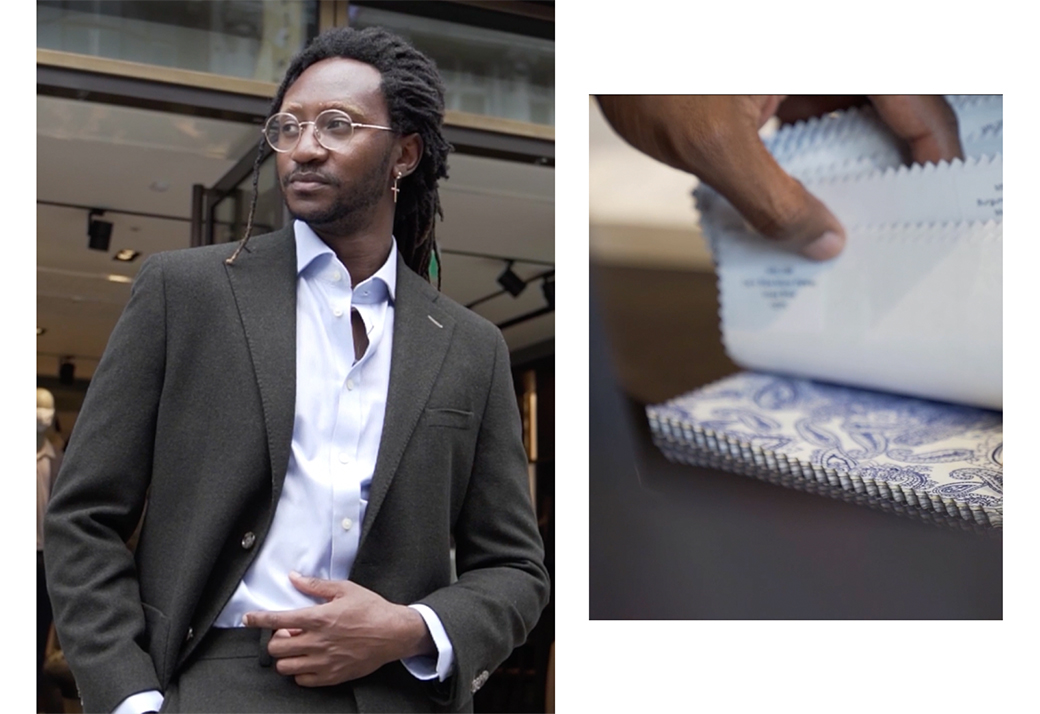 WHAT'S THE OCCASION?
If anything influences the kind of men's suit you should be buying, where you're going to wear it is a key thing to consider. Matthew also points out that, particularly for occasionwear, "knowing what the dress code is or if there are any colour themes to be aware of will help us help you get the right style and accessories."
For black-tie occasions, Somsoll's advice is to stick to "evening or dinner suits with classic black satin lapels", while for something more every day but still important like an interview, he suggests being "a bit more conservative with your colour choices, like black, grey or navy, and add simple accessories for a pulled-together look."
Going to a wedding? Somsoll says, "any suit is suitable, as long as you've taken dress codes into consideration. However, a lounge suit with an extra bit of flair is a great bet. Try a three-piece with a contrasting waistcoat, or if you're dressing a wedding party, consider our Custom Made personalisation service to make your suits really stand out."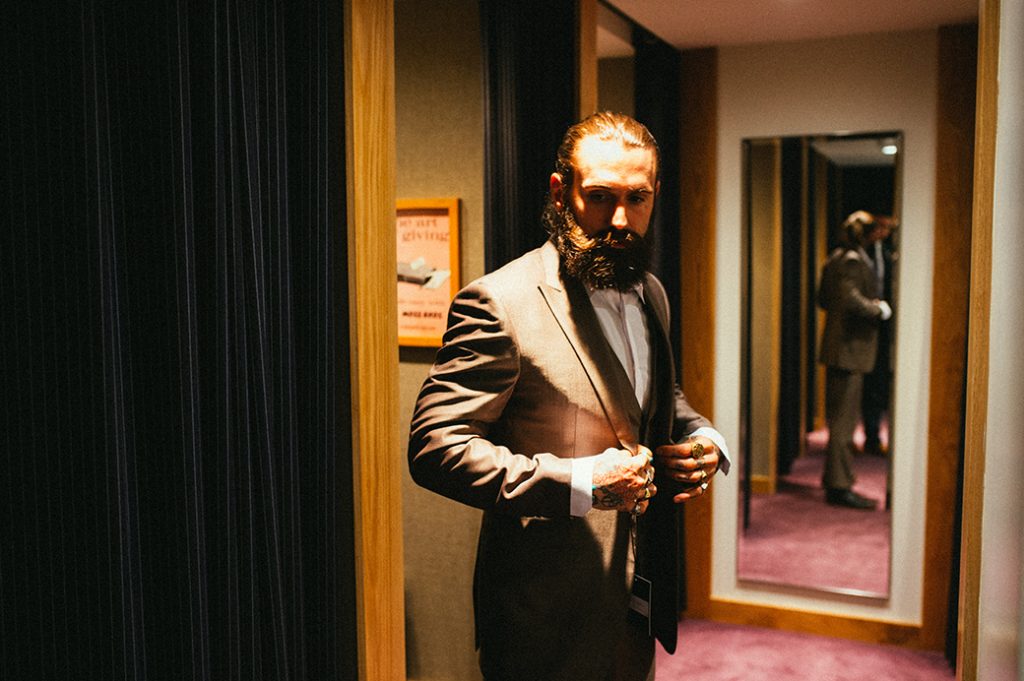 THE PRICE IS RIGHT
It's best to be honest with any budget you have in mind. We have a diverse range of suits including our own-brand labels as well as leading brands including Ted Baker, French Connection and DKNY, so there's something to suit every wallet. We also work with mills to bring you exclusive fabrics at every price point, so even if your budget is tight, you can still get a great suit.
Sally Fairclough, from our store in Collier's Wood, says your age is also something to consider when setting your budget. "If you're a young guy, maybe buying your first suit, you might not have finished growing yet so there's no point blowing your budget on something that might not fit for very long. The same goes if you're planning on gaining or losing weight. Equally, if you're a bit older or know you'll be the same shape for a while, you won't regret spending a bit more on a luxurious fabric."
YOU WON'T REGRET SPENDING A BIT MORE ON A LUXURIOUS FABRIC

Sally also points out that the occasion can influence your price point. "If you're buying a suit for work, you'll be wearing it a lot, so you'll probably want to spend your money on durable fabric, like the tech-packed stretch wool we use on our performance suits. If it's a special occasion, like your wedding or an important event, then spending a little more on high-grade wool will make you feel extra confident on the big day."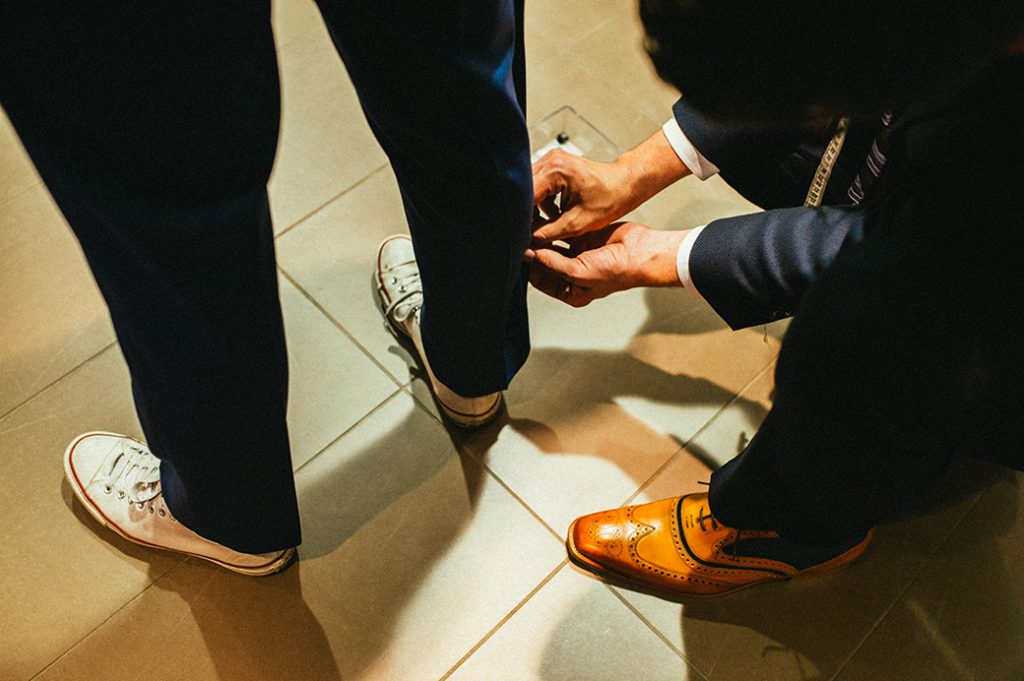 BONUS ROUND
We'll finish this guide with Somsoll's take on the all-important finishing touches.
"Your pocket square doesn't have to match your tie, so try mixing things up. That goes for tailoring separates, too – mix and match chinos and jackets or, for a semi-casual look, swap your shirt for a basic t-shirt under your jacket. As for your feet, try dropping the socks and adding loafers instead. You can even mix your trainers with your suit for smart casual (just make sure that they're clean!). I could carry on, but the key is to keep things simple – less is more when it comes to styling tailoring, so don't overdo it."
And there you have it: your guide to shopping for a men's suit like a pro. Ready to get started? Get down to your nearest store or take a look at what's new in online.